Description
This miniature is cast in resin and is supplied unassembled without a base.

Tuan mac Cairill is an immortal shapeshifter. His origins trace back to the Antediluvian age, making him possibly the oldest being on the island. He is perhaps one of the legendary Nephilim. Tuan was once a follower of Partholón, though as the sole survivor of the plague that slew all the Partholóin, he is regarded with great suspicion. Mostly reclusive, he charges himself as watcher of the lands, having witnessed all the invaders arrive and perish in turn.
Tuan stands tall at 45mm to top of head, 70mm to top of wings.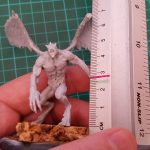 This model was sculpted by Diego Serrate.
Example model painted by Rochie Rochfort, also known as The Rogue Painter.